Hardly a week goes by without my being contacted by someone posing the question: "How do I become a business efficiency consultant?" After repeatedly (and inefficiently) responding to many of those emails with similar advice, I'm now sitting down to hopefully write out that advice in a more permanent form.
Before I begin, however, let me give a word of clear warning. There is no set, required pathway an individual must take in order to "arrive" at being a successful business consultant. What is required is much patience, diligent study and work, along with the right connections.
An individual may have an MBA from a prominent business school, and they may have ten years of practical experience in business management and consulting; however, without the right connections, a business consultant will be hard pressed to find true success. Along a similar line, an individual may have academic training and degrees unrelated to business management; however, their experience and, especially, connections can place them in the right location at the right time, which can lead to their success as a consultant.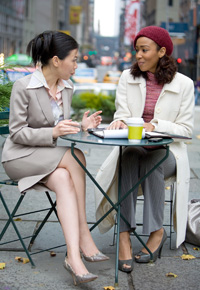 Perhaps I should have actually rephrased my article title as "How to Become a Successful Efficiency Expert," since the "successful" aspect differentiates the vast number of want-to-be consultants from those who have actually "arrived."
My advice for those pursuing this field of business consultancy stems largely from my experience as the lead consultant of a small firm. While I am somewhat familiar with the internal politics and evolution of a consultant at a large business consultancy firm, I am not in a position to provide advice regarding how to worm your way from entry level to senior consultant at such a firm.
My experience also falls in the fields of working largely with small businesses and nonprofit organizations, particularly in regards to performance, efficiency, production, growth, cost savings, marketing, and customer interaction. There are many specialized fields within the broad "business efficiency" realm for which I cannot speak. As an example, if an individual desired to pursue the field of manufacturing efficiency to provide Six Sigma recommendations, that is outside of my experience. Thus, I will provide recommendations to those interested in serving smaller businesses as independent consultants who evaluate and analyze a company's status quo and provide recommendations for improvement.
Academic Preparation
Ideally, a Master's in Business Administration would provide a strong foundation for a business consultant. A Bachelor's in Accounting or a Bachelor's in Business Administration would also be good. If an individual had completed college in the past and had a bachelor's degree unrelated to the field of business, working on a second business-related bachelors or pursuing a business related masters would be a smart option. Additional options include a law degree or a degree in communication, psychology or human resources.
While a bachelor's and master's degree in the field of business are ideal, real life experience and personalized study can more than make up for any perceived "academic deficiencies." If, however, you are hoping to gain employment at a large business consultancy firm, I would strongly recommend you pursue the business degree option (particularly the MBA).
Personal Preparation
Becoming a successful business consultant rarely (if ever) happens overnight. Treat it as a long term dream, and plan every portion of your life with your dream in mind.
Be selective in the jobs you accept (whenever possible), choosing employment that will broaden your perspective within the workplace. While most people prefer to work at the same company, search for jobs at varied places of work in order to expand your understanding of contrasting workplace cultures.
Become a lover of knowledge and a student of people and history. Exercise your mind with problem solving, both real and fictional. Read the biographies of corporate and nonprofit leaders and learn from their mistakes and successes.
Recommended Reading List
Here's a short list for those beginning or contemplating an entrance into the field of business consulting.
Gain Experience
Seek an internship with a local established business coach or business advisor. If your city (or a city nearby) has a business consultancy firm that offers opportunities for internships or apprenticeships, work toward acquiring a position there. If a business consulting firm is hiring entry level positions (part time or full time), take the pay cut and jump on the opportunity to gain first hand experience.
Establish Yourself

During college, take speaking and writing classes. If you are beyond your collegiate years, take private speech or writing classes to refine your personal presentation.
Contact local colleges and universities, offering to hold free seminars related to your topics of interest (cost cutting, business growth, customer service, etc.).
Extend your services pro bono to a handful of local influential nonprofit organizations.
Become active online. Contribute to LinkedIn and other websites where you can provide answers to submitted questions. Contribute articles to newspapers and other outlets. Establish a website and develop an online personality through social media.
In Conclusion
If you are considering pursuing the field of business consulting, my initial recommendation would be to read a couple of the books listed above (particularly The Ultimate Consultant and Flawless Consulting) and to pick the brain of a local business consultant. As with any career change or career goal, it's key to make sure that you know what you are getting yourself into. While being a business growth & improvement consultant is enjoyable for me, it's not without its challenges and its mountain peaks as well as deep valleys. If you begin your own small business consulting firm, it will take considerable work to establish your reputation and to develop a network of connections that will ultimately place you within the "Executive Club" where the high dollar decisions are made.
Most of my new clients result as referrals from existing clients, and I find that to be the same with many other business consultants. Establishing yourself with the first couple of clients will be the typical hurdle; once you've crossed that and done well, the journey will gradually become easier.
Inevitably, I'll return to this article and be occasionally adding to it and refining it. Feel free to leave questions, comments & tips below in the comments area.
Note: In answer to many questions I receive, while I have operated an internship program in the past, at the present I am not taking on any interns. Down the road, however I may resume our intern program.
Image credits: Top by Martin Fischer / Fotolia; Second by TheSupe87 / Fotolia; Third by Andres Rodriguez / Fotolia; Fourth by Monkey Business / Fotolia; Fifth by nyu / Fotolia.